Erasmus+
Our prospects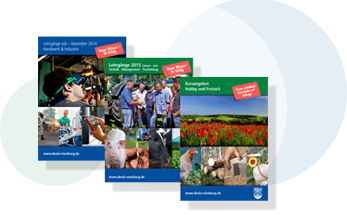 Here you will find a current overview
of our brochures for download as PDF
About Erasmus+
Erasmus+ is the EU program for general and social education, youth and sport for the period 2014 to 2020. The program is intended to promote skills and competence and the modernization of general and educational systems as well as child and youth welfare. The program is designed to help manage the global political agenda for growth, equity and social inclusion.
The follow-up program to Erasmus+ is to come into force for seven years from 2021. The course is already being set for the future. The EU Commission wants to empower more young people through EU education funding and proposes to significantly increase the budget. Around 12 million people are to be able to participate in various forms of exchange and benefit from project funding. It should become a matter of course for citizens to live, learn or work in a European country other than their own. In this way, the follow-up program is intended to make a significant contribution to strengthening European identity and to a democratic union. At the same time, the new program will help to give European youth more social participation and equal opportunities.
The role of DEULA
Since 2014, DEULA-Nienburg has participated in Erasmus+ projects and partner programs in vocational education. Under both Key Action 1, learning mobilities, and Key Action 2, cooperation between organizations and institutions, programs were successfully implemented from 2014-2020.
Through the future mobility accreditation, DEULA-Nienburg gives trainees and trainers the opportunity to complete an internship in the time span of 2 weeks to 12 months (depending on whether target group learner or target group educational staff) in other European countries. This motivates trainees and trainers, brings international experience and is a gain on the professional, linguistic and personal side.