Erasmus+
Our prospects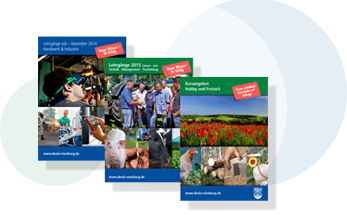 Here you will find a current overview
of our brochures for download as PDF
Stays abroad during training
Mobility projects in vocational education and training are a central lever within Erasmus+ to enable young adults to acquire vocational qualifications abroad. At the end of the process is the idea of a Europe growing together, which conveys understanding and respect through concrete learning experiences.
Together with the consortium partner, the Verband Garten-, Landschafts- und Sportplatzbau Niedersachsen-Bremen e.V., we will be offering individuals stays abroad as part of their vocational training from 01.03.2021. Trainers and trainees from the "green sector" have the opportunity to internationalize themselves and also the companies via an EU-funded stay abroad and to carry the European idea further. Interest in language, culture and social issues are frequent motives of the participants. Expanding professional skills, being open to everything new, or looking at life from a new perspective are also motives for applying for participation. We would like to emphasize that the European Union explicitly promotes inclusion and that participants with fewer opportunities are also called upon to participate and can also apply for funding together with caregivers.
Two target groups are supported:
The target group of learners
Apprentices and students of vocational schools can participate in programs during their training and up to 12 months after their final exams.
Persons participating in a vocational training preparation program that can be credited to a subsequent vocational training program are also included in the target group.
Funded stays of learners can last between two weeks and 12 months.
The target group of training personnel
This target group includes trainers, teachers in vocational training programs, vocational counselors and persons responsible for training planning, personnel development and vocational training preparation.
Stays abroad by training personnel serve either the purpose of learning - e.g. in the form of internships, job shadowing - or the purpose of learning.
Stays of between two days and two months are funded.
Please contact Heide Reimer for further information.