Agriculture + New energies + MR + LU
Our prospects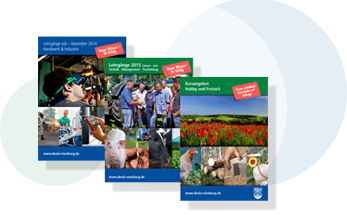 Here you will find a current overview
of our brochures for download as PDF
Agriculture + New energies
For the enterprise development and its further success it's necessary to invest in new energy resources. Every year we face a need to invest in machinery and buildings. But what kind of investment brings really long-term success?
It is the investment in your education and training of your employees.
For more than 80 years the DEULA-Nienburg has been your experienced partner in staff training. Our seminars offer you a "boost" of new ideas, they show you efficient ways to save money and give you an opportunity to be successful in the future.
Company trainings
Many large agricultural machinery companies have already sent their staff and clients to our training courses. We can work out a special training concept according to your personal wishes.
Independent tests
Do you want an independent third party to check the performance of your machines? We are ready to make this for you: we have appropriate measuring equipment, as well as excellent skills.